Everything You Need to Know

About Cancun's Cenotes

The World Opened Up Beneath the Ground
By now, the brilliance and warmth of the turquoise waters of the Mexican Caribbean are well known the world over. But for many who aren't familiar with the Riviera Maya, a dip, dive, or swim in one of the ubiquitous cenotes or wells, that dot the Yucatan Peninsula, should be considered just as crucial to a true appreciation of Cancun.

From sun-drenched watering holes to eerie bat-lined caves with seemingly bottomless diving opportunities and endless stalagmites, the breadth and range of cenotes in the region is staggering. There a upwards of 7,000 known cenotes, but the true number is generally thought to be much more. You could spend a lifetime exploring them and just scratch the surface of the total there is to see.
From sun-drenched watering holes to eerie bat-lined caves with seemingly bottomless diving opportunities and endless stalagmites, the breadth and range of cenotes in the region is staggering.
That being said, you need a game plan if you plan to tackle one or more of the cenotes on a particular trip. Are you exploring on your own or will this be a family affair with kids and maybe even grandparents? Do you want to go below the surface, or do you prefer wading along above the surface? Are you an extreme sports nut who wants to jump 40 feet into a jungle watering hole, or zip line into the middle of another?

Once you've decided, chances are there are several cenotes to choose from. To help you on your exploration of one of Mexico's natural wonders, here are Four Ways to Get the Most Out of Your Cenotes Adventure.

Getting There and Taking a Tour
Arriving Can Be Half the Fun

Cenotes are mostly off the beaten path but Mayans built pyramids and temples near major cenotes (see Chichen Itza), Spanish explorers stumbled upon many others and everyday folk have even had the limestone underneath their feet sink out beneath them to discover new ones.

Atop a mountain bike and all-terrain vehicle (ATV) or just an extended hike, you can trek down the Ruta de los Cenotes through the heart of the jungle and visit 12 different cenotes. Though you can literally drive up to some cenotes, including the creepier Kin Ha, most of them involve going into the jungle like a native. It is hard work, but it also affords you the chance to get close to nature, which is why you are there in the first place!

Take a Tour

Getting to a particular cenote can be challenging but navigating your way into these hidden treasure can be downright daunting. Your best bet, especially for first timers, is taking a guided tour with experts who know the cenotes and all their mysteries.

The Rio Secreto tour has quickly become Cancun's most popular, despite the cenote and underground river being discovered less than a decade ago. Guides explain the geological marvels your eyes will witness and wetsuits, booties, lifejackets, helmets, and even headlamps are all provided. If you are staying at Palace Resorts, meet with Palace Vacation Planners to sign up.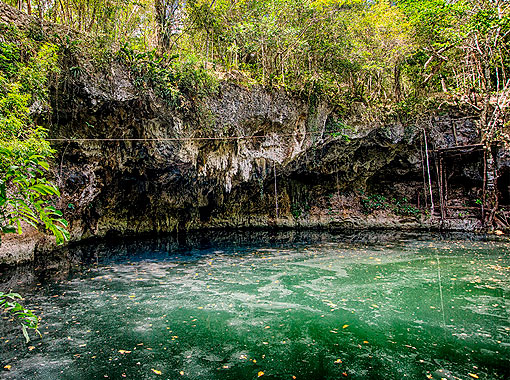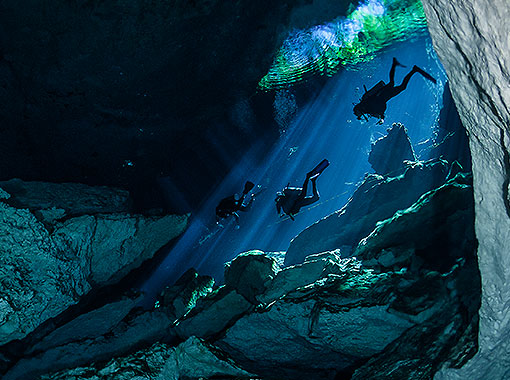 Going Under and Going to Extremes
Dive Into The Underworld

Like icebergs, the true expanse of cenotes lies beneath the surface. To experience them completely, you'll have to don scuba gear and go on an unforgettable adventure into an alien-like world.

Whether you want to dive into a cenote with the sun illuminating crystalline waters or explore a dark underwater world with headlamps to light up caves devoid of any natural light, experienced divers the world over visit cenotes for thrills. The Dos Ojos Cenote west of Playa del Carmen provides among the best examples of what cenote diving entails.

Go to Extremes

As mesmerizing as some cenotes are to gaze upon, to truly experience them, you have to get wet. For extreme sports enthusiasts, that means to plunging into them, sometimes from dizzying heights.

Numerous cenotes are equipped with a variety of extreme activities. Blanca Flor along the Ruta de los Cenotes has multiple zip lines and a wooden tower with four different platforms to dive or plunge into the green waters filled with majestic lilies. There's also a wooden walkway that runs along the circular expanse of the cenote, allowing you go walk all the way down to the water's edge. Whether you jump in or dip your toes down a ladder, expect to have your breath taken away by one of the wonders of Mexico.