5 Things

You Can Only Do In Mexico

You Know Mexico, But Do You Know What Makes It So Unique?
You already knew Mexico was a special place, but just how special is it, really? We set out to find unique experiences that will enrich your life if you dare to stray a little bit off the beaten path. Only in Mexico.
Live a little and sample the creamy richness in a dish of escamoles (ant larvae, often described as "Mexican caviar").
Well Wishes and Insect Gastronomy
You can bathe in sacred waters. Fancy a dip into a veritable gateway to the afterlife? Because that's exactly what you'll get when you dive into a cenote, or well. These natural pools filled with crystal-clear water are just about everywhere in southeast Mexico (there are about 6,000 of them in the Yucatán Peninsula alone).

The fabled cenotes can be found in serene open water ponds or hidden deep inside intricate cave systems, only accessible to experienced divers and guides. Their significance wasn't lost on the ancient Mayans, who used them both as sources of fresh water and as sacred sites for their many rituals. A staggering number of this civilization's most treasured relics have been recovered from the undisturbed depths of cenotes. Make sure to consult with your Palace Resorts Vacation Planner to experience cenotes up close and personal.

Eat like Timon and Pumba. Yeah, those crazy cartoon critters from The Lion King were feasting on African bugs, but Mexico has brought the insects-as-delicacies game to a whole new level. With Mexican gastronomy on the rise and its native chefs bringing their traditional tastes to discerning palates worldwide, it was only a matter of time before the cuisine transcended the tourist-baiting dare of "eating the worm" inside a cheap bottle of Mezcal.

Live a little and sample the creamy richness in a dish of escamoles (ant larvae, often described as "Mexican caviar"), top your velvety-smooth guacamole with a crunchy spoonful of chapulines (seasoned and fried grasshoppers) or try some tasty chinicuiles (the most delicate variety of maguey worms). And don't be queasy, you like lobster, right? If you do, you've basically eaten the biggest bug of them all, so go for the gusto!

Underwater Art and De-Stressing, Mayan Style
Underwater Musings at MUSA Appreciate the beauty of underwater sculpture. Anyone can leisurely stroll across a museum in terra firma, but getting your art fix on while wearing a bathing suit sounds more appealing, won't you agree? Well, look no further than the MUSA (Underwater Museum of Art), Cancun's own subaquatic museum of art, where you'll strap on your diving mask and snorkel for a tour of more than 470 sculptures set in the world's most captivating art gallery: a sprawling coral reef packed with colorful underwater life. Bonus points: Not having to listen to nearby art snobs trying too hard to impress their dates with their knowledge of chromatic motifs.

De-Stressing, Mayan-Style! Sweating your worries away in a temazcal. These pre-Hispanic rituals are much more than simple sweat lodges, since they were conceived as formal purification ceremonies that expelled stress and illness from the body by creating a physical, spiritual, and emotional bond with the four elements: earth, water, air, and fire.

Known by the Mayans as zumpul-che, temazcal combines the familiar practices of aromatherapy and the sauna-like dry heat lodge with sessions of song and music under the patient guidance of a temazcalero, culminating in refreshing showers, mud masks, and some locally-sourced food and drink. Oh, did we mention the whole deal is set in a lush tropical jungle? Don't miss out on this one.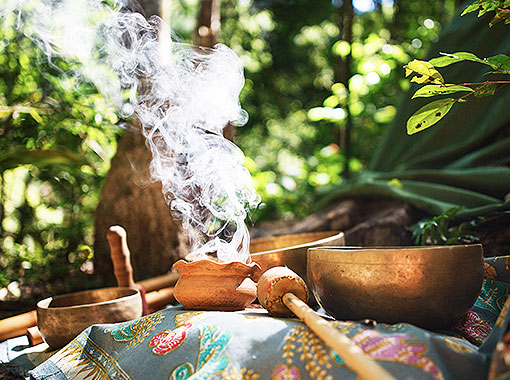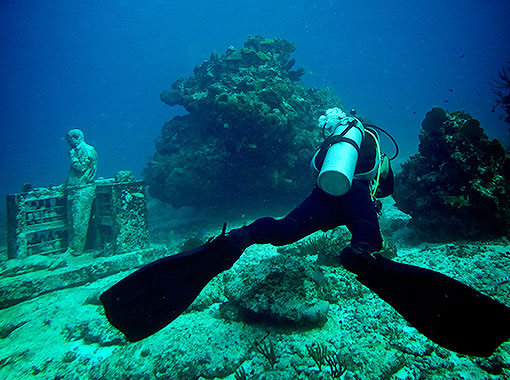 Beachfront History
Visit a unique Mayan seaside property. Historians everywhere concur on the fact that ancient civilizations from the pre-Columbian era weren't too keen on beachfront real estate. That's why the ruins of Tulum are so special among American archeological sites, since the unusual and spectacular cliffside edifications built by the Maya around the year 1200 A.D. overlook the azure waters of the Caribbean and provide endless opportunities for envy-enducing selfies that'll irk the folks back home.

All kidding aside, schedule a visit to this ancient city, just 80 miles south of Cancun, and discover why it's Mexico's third-most popular archeological site. Don't forget to use your Palace Resorts Resort Credit for the trip!

Hey, we're not knocking on your poolside cocktails, but try to find time for a few of the above mentioned thrills the next you visit Mexico, Okay? At the very least it'll be an experience you'll never forget.